Danske Hypotek AB
Danske Hypotek is a wholly owned Swedish subsidiary of Danske Bank A/S. In the middle of 2017 the company received permissions from the Swedish Financial Supervisory Authority to conduct business as a credit market company and to issue covered bonds.

The primary purpose of the company is to create long-term stable financing with regard to Swedish mortgage loans. The Swedish branch's long-term growth in Sweden is supported through the company's access to the Swedish benchmark market for covered bonds. This way, the best possible conditions are created for the Swedish branch to offer long-term competitive lending to Swedish mortgage loan customers and owners of residential properties in Sweden.
Danske Hypotek acquires Swedish mortgages from Danske Bank A/S, which are secured by Swedish real property (fastigheter), site leasehold rights (tomträtter), tenant-owner rights (bostadsrätter) and multi-family houses (flerfamiljshus) and funds these assets with the continuous issuance of covered bonds, primarily in the Swedish benchmark-market. The company has also established a covered bond program for potential issuance in the international market. The acquired mortgages are included in the company's Cover Pool and comply fully or in part with the requirements under the Covered Bonds Act. The company may also hold Supplemental Assets, and Public Credits can be used as supplemental security in accordance with the Covered Bonds Act.
For more information on the Swedish Covered Bonds Act

Danske Bank A/S, Swedish Branch

The history of Danske Bank's operations in Sweden dates back to 1997 and today the bank is the fifth-largest in the country. With 1,500 employees the bank serves personal and business customers and large institutional clients from local branches and regional finance centres, as well as via various digital channels. Danske Bank in Sweden has a strong commitment to continue attracting new customers through strategic partnerships with organizations like Saco and TCO which comprises 22 and 14 unions with more than 2 million union members, and HSB – a cooperative savings and construction association with 674,000 members.

Danske Bank A/S
The Issuer forms part of the Danske Bank Group. The parent company of the Group is the Parent. The Parent was founded in Denmark and registered on 5 October 1871 and has, through the years, merged with a number of financial institutions. The Parent is a commercial bank with limited liability and carries on business under the Danish Financial Business Act. The Parent is registered with the Danish Business Authority and is under the supervision of the Danish Financial Supervisory Authority . The registered office of the Parent is at 2-12 Holmens Kanal, DK-1092 Copenhagen K, Denmark, with telephone number +45 33 44 00 00 and Danish corporate registration number 61126228.
The Parent is conducting its lending operations in Sweden through the Swedish Branch. The structure of the Group is set out in the structure chart below.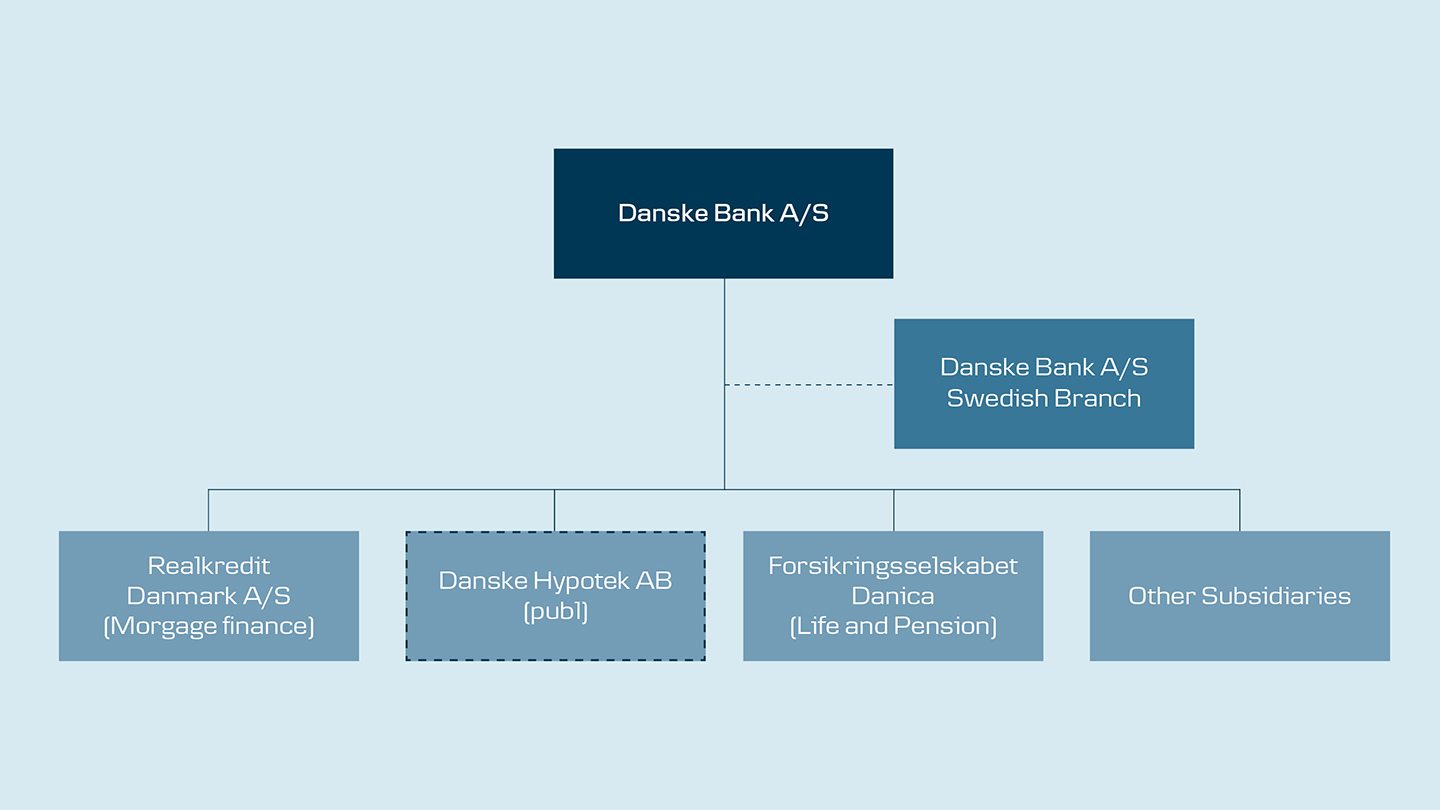 The Group is the leading financial service provider in Denmark, and the group also has significant operations in its other main markets, Sweden, Norway and Finland. The Danske Bank Group is one of the largest financial service providers in the Nordic region. The Group offers customers a wide range of services in the fields of banking, mortgage finance, insurance, pension, real-estate brokerage, asset management and trading in fixed income products, foreign exchange and equities.
For more information on Danske Bank group